REAL ESTATE, TRUSTS, and ESTATES
Our experienced lawyers counsel individuals, families and companies in matters related to real estate, estate planning and trust administration/probate matters.  We serve families and businesses throughout Wisconsin, including Racine, Milwaukee, Waukesha, Sheboygan, Ozaukee and Kenosha Counties.
Wyant Law Offices, S.C. was founded by Jud and Mary Wyant in 1989.  After practicing law for almost forty years, Jud and Mary retired in 2016 and transitioned the firm to their son, Peter J. Wyant.  Leah R. Wyant joined the firm in 2017 after five years of practicing with one of the largest real estate law practices in Wisconsin.  Wyant Law Offices, S.C. is proud to continue the tradition of serving our clients' legal needs throughout Wisconsin with individualized, prompt and efficient service.
Call us today at 262-634-1203 to schedule your initial consultation.
Our main office is located at 601 Lake Avenue, Racine, Wisconsin 53403 and we are available by appointment at 1011 North Mayfair Road, Wauwatosa, Wisconsin 53226.
Wyant Law Offices, S.C.
601 Lake Avenue Suite 100
Racine, WI 53403
Phone: 262-634-1203
Fax: 262-634-1933
Mailing Address
P.O. Box 1303
Racine, WI 53401-1303
Available by appointment at:
1011 North Mayfair Road
Wauwatosa, WI 53226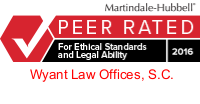 Wyant Law Offices S.C
Skilled and Trusted Representation in:
Wyant Law Offices, S.C.
An experienced Wisconsin law firm
601 Lake Avenue Suite 100 ·
P.O. Box 1303 · Racine, WI 53401
Tel: 262-634-1203 ·
Fax: 262-634-1933

Also available by appointment at: 1011 North Mayfair Road, Wauwatosa, WI 53226