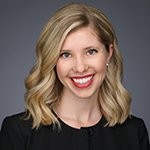 Megan Gohsman
Practice Areas: Real Estate
Email
mgohsman@wyantlaw.com
Send Email
Telephone
General: (262) 634-1203
Megan Gohsman: (262) 770-4755
Postal
Wyant Law Offices
P.O. Box 1303
Racine, WI 53401-1303
Megan Gohsman is an associate attorney at Wyant Law Offices, S.C., where she concentrates her practice in the acquisition, development, leasing and disposition of real estate. She also has substantial experience representing community associations in governance, statutory compliance and lien enforcement.
Megan Gohsman joined Wyant Law Offices, S.C. after working at a law firm in Chicago where she represented large condominium developments, financial institutions, real estate investors and developers.
Megan resides in Waukesha county and enjoys being active within the community. She is a member of the Waukesha Bar Association and volunteers with the Pretty in Pink Planning Committee of the American Cancer Society.
---
Honors
Selected by the Community Associations Institute as a 2014 "Rising Star"
---
Affiliations/Memberships
State Bar of Wisconsin
Waukesha Bar Association
---
Education
J.D. New England Law Boston
B.A. Purdue University
This web site is designed for general information only. The information presented at this site should not be construed to be formal legal advice nor the formation of a lawyer/client relationship.